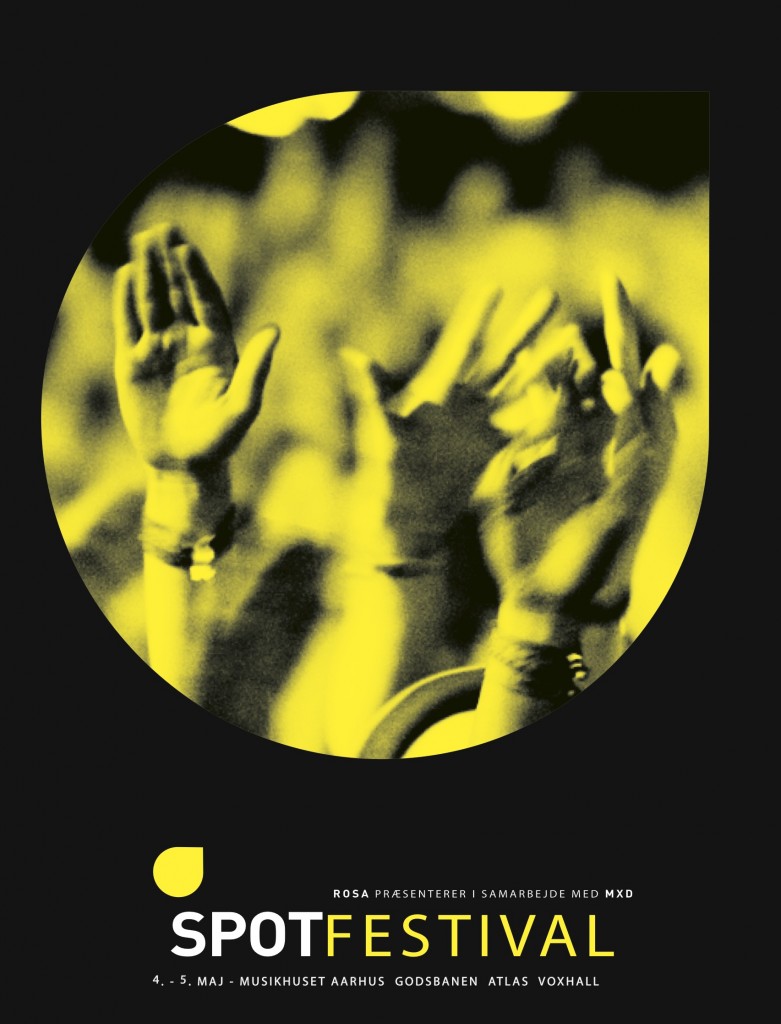 Som det er hvert år omkring denne tid, skal denne blog selvfølgelig afsted til årets SPOT Festival. For undertegnedes vedkommende er det den 9. gang i træk, så man kan vel efterhånden kalde sig en veteran. Jeg glæder mig i hvert fald som et lille barn, som jeg altid gør. Det er og bliver én af mine yndlingsfestivaler. Og i år er ambitionerne høje, da jeg har en plan om at nå at se samtlige af følgende navne:
FREDAG:
CopCol – live reworked by T. Finland & Mikkel Meyer
Masha Qrella (DE) & Dangers of the Sea (DK)
Age of Giants
RebekkaMaria & The Hymnboy
Vessel
LCMDF
Waldo & Marsha
Carlis
Choir of Young Believers
Donkeyboy
Young Dinosaur
Lovespeed
Reptile Youth
LØRDAG:
Snake & Jet's Amazing Bullit Band
Marybell Katastrophy (DK) & Nils Frahm (DE)
Shiny Darkly
In Memoirs
Indianna Dawn
Of The Wand & The Moon
My Bubba & Mi
Lukas Graham
Green Pitch
Rum 37
Mellemblond
Asbjørn
Prinspóló
Taragana Pyjarama
The Echo Vamper
Chorus Grant
Der er jo altid nogen man ser mere frem til end andre. Nogle af dem fordi man har set dem før og ser frem til at se hvordan og om de har udviklet sig, og andre fordi man har læst og hørt så meget godt om dem, men endnu ikke fået dem set. Det skal dog lige nævnes at der kun er 5 af ovennævnte navne jeg har set før, så jeg synes selv jeg har været dygtig til at overholde mit dogme i år. Nu må vi bare se om det holder i virkeligheden.
Som altid sker der også en masse andre ting udenfor SPOT, som oftest gør forvirringen større. I hvert fald for mig, hvilket resulterer i at jeg år for år prøver at navigere udenom disse arrangementer og kun fokusere på hvad der sker på selve festivalen. Men det er efterhånden svært kun at holde fokus, dels fordi disse arrangementer med årene har udviklet sig til nogle federe og federe arrangementer og knap så meget hemmelighedskrammeri, men dels også fordi at der ofte følger goder som gratis drikkelse og lignende med til disse arrangementer (har dog planer om at holde en nogenlunde sober SPOT i år, da der jo er lagt et stramt program for dagen). Så jeg har derfor sat mig for at starte min SPOT festival fredag med Pumpehusets Dayparty i M.P. Bruunsgade
Tjek det ud her.
Lørdag går turen – medmindre et seminar kommer i vejen – til V58, som jeg endnu mangler at stifte bekendtskab med i den virkelige verden, hvor en flok musikelskere har fundet sammen og stablet denne dayparty på benene: