Det er jo nærmest en tradition, ligesom med årslister, at komme med en anbefalende oversigt over årstidens bud på de bedste koncertoplevelser, som man enten virkelig godt kunne tænke sig at tage til, eller som man bare glæder sig til udover alle grænser. Her er en kronologisk liste:
Future Islands + Girlseeker @ Loppen fredag d. 24. februar BILLET
Dirty Beaches @ Stengade tirsdag d. 28. februar BILLET
Loney Dear @ Ideal Bar onsdag d. 29. februar BILLET
The Drums @ Amager Bio onsdag d. 7. marts BILLET
We Have Band @ Lille Vega torsdag d. 22. marts BILLET
Cass McCombs + Sink Ships @ Musikcaféen (KBH) mandag d. 19. marts BILLET
Peter Doherty @ Amager Bio søndag d. 1. april BILLET
Xiu Xiu + support @ Stengade fredag d. 13. april BILLET
Kings of Convenience @ Store Vega lørdag d. 15. april (A-sides) BILLET
Kings of Convenience @ Lille Vega søndag d. 16. april (B-sides)
Bowerbirds @ Lille Vega søndag d. 22. april BILLET
Larsen & Furious Jane + support @ Stengade lørdag d. 28. april BILLET
Ryan Adams @ Falconer Salen mandag d. 7. maj BILLET
Af dem jeg ser allermest frem til af ovenstående, og helt sikkert vil være at finde iblandt publikum til, vil være Dirty Beaches, Loney Dear, We Have Band, Xiu Xiu og Cass McCombs. Uf det bliver et lækkert forår! De resterende, er koncerter jeg meget gerne vil til, men har ikke råd til at gå til dem alle, så der skal desværre prioriteres.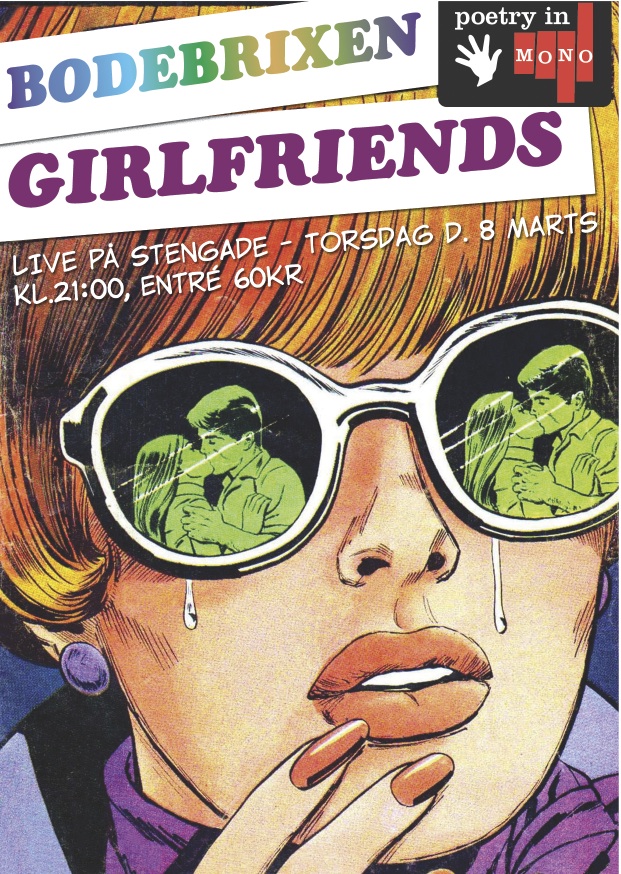 Det er jo lidt subjektivt at anbefale koncerter hvor man selv har haft en finger med i spillet…men jeg kan ikke komme udenom det, for vi i Poetry In Mono har også disket op med et par aftener i marts og april som virkelig sparker røv!
Torsdag d. 8. marts bliver en farverig og meget dansabel aften i selskab med Bodebrixen og Girlfriends. Det er endda Girlfriends' debutkoncert. Til at underholde før, imellem og efter koncerterne, får vi besøg af DJ Mexican Golf (Big Oil Rec), som nok er blandt de største musiknørder jeg kender. Det bliver en uforglemmelig farverig aften fyldt med balloner og konfetti og smil. Køb billet i forsalg her.
Og tjek da lige Girlfriends' søde søde video ud her:

GIRLFRIENDS – When You're Young (En kärlekshistoria – 1970) from GIRLFRIENDS on Vimeo.
Fredag d. 20. april inviterer Poetry In Mono til "senior prom" i selskab med Girls Love Rallie, Hell Is In Hello og Starcrash. DJ'en er ikke blevet fundet endnu. Men alene bandsene burde være nok i sig selv til at dukke op til en dejlig musikalsk oplevelse. Billetter købes her.