Første gang jeg stiftede bekendtskab med gruppen Grizzly Bear, var som militærnægter på det lille spillested Pitstop i Kolding. Jeg kom med heftige tømmermænd over middagstid, for at skulle gøre stedet klart (og rent) til aftenens koncert med selv samme gruppe, der umiddelbar efter udgav Yellow House – så vidt jeg husker. Der stod imidlertid allerede en gruppe mennesker, der ikke så ud som om, at de kom fra Kolding.
Det viste sig at være Grizzly Bear, der var kommet tidligt, hvorfor stedet sejlede efter gårs-dagens strabadser. De viste sig dog som nogle tilbagelænede sympatiske gentlemænd, der blot ville have en kop kaffe og et sted, de kunne sidde og slappe af indtil aftenens totalt intime koncert. Næste gang de kommer til Danmark, er det så i Falconer Salen i oktober, og der er sandelig sket meget siden. De har fx beriget os med deres seneste album Veckatimest, samt deres udmærkede nyfortolkninger af eget materiale m.m. til filmen Blue Valentine, som bestemt var et behageligt bekendtskab – om end en tankestreg i gruppens fremdrift.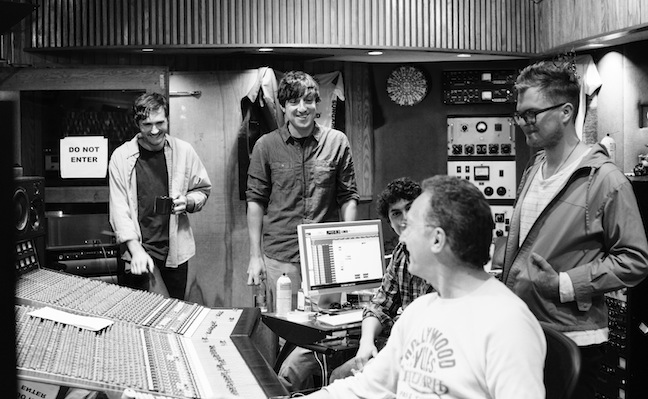 Nu står de klar med den første smagsprøve til deres kommende album, der udkommer før, de besøger Danmark – den 18. september . Koncerten er den 28. oktober. Men lyt lige til nummeret Sleeping Ute. Fremragende. Gruppens samklang med Seattle-gruppen Fleet Foxes er at spore, hvor Robin Pecknold fra Fleet Foxes også tidligere har udgivet en duet med Ed Droste fra bjørnegruppen, men det lyder stadig meget, som vi kender dem.
Jeg er vild med den afdæmpede slutning, der nærmest tager sig ud som et decideret coda-stykke. Derudover er det egentlig gruppens vanlige småskramlede lyd, med melodierne, og de små figurer, der går i fint samspil instrumenterne imellem. Drostes fantastisk indfølte vokal er klar og ude i fjæset på os, og nummeret er også et af de mere "popppede", ligesom vi hørte det på de fremragende Two Weeks og While We Wait For The Others fra Veckatimest. Synth-arpeggios, guitar-picking og andre violin-lignende dybdegivende elementer er med til at gøre Sleeping Ute til et spændende bekendtskab. Der er umiddelbart meget at se frem til.
Grizzly Bear – Sleeping Ute: