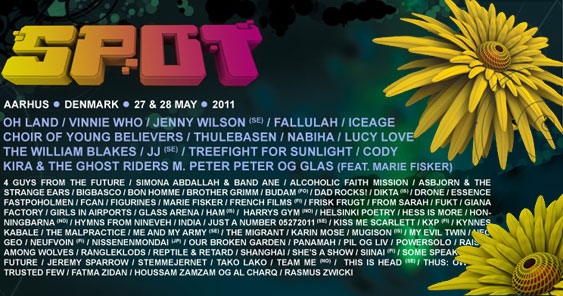 Traditionen tro skal undertegnede på denne tid af året en tur til Århus og nyde en masse musik i to hele dage på yndlingsfestivalen SPOT. Sidste år indebar den 7. af slagsen en masse arbejde i forbindelse med en praktik, men i år er der knap så meget at se til og dermed meget mere at se på og lytte til. Jeg har glædet mig meget, og sidder her i toget og forstår ikke helt at jeg allerede er på vej…
Det har været en meget hektisk tid her op til festivalen, så har knap haft tid eller overskud til at sætte mig ind i programmet, men som det ser ud lige nu, kunne jeg godt tænke mig at se følgende:
Let Me Play Your Guitar feat. Talking To Turtles (DE), Bigbang, Pil & Liv, The William Blakes, 4 Guys From The Future, Jenny Wilson feat. Tensta Gospel Choir, Darkness Falls, Just a Number 05272011, Mugison, Thulebasen, Helsinki Poetry, Girls in Airports, Treefight For Sunlight og Iceage…phew. Se det var bare i dag fredag…
Lørdag byder på: Hess Is More feat. Rasmus Zwicki, Some Speak of The Future, Dad Rocks!, Il Tempo Gigante, Deer Bear, Glass Arena, Raised Among Wolves, The Malpractice, Orka feat. Ben Osborne's Noise of Art with The Pile and Dec Shoes og Messy Shelters.
Ud af alle de navne har jeg én stor favorit, som jeg virkelig ser frem til at opleve…nemlig The Malpractice. Fra at have været en plade som jeg synes brugte lidt for mange Kashmir'ske elementer, er Tectonics virkelig vokset på mig det sidste stykke tid, og jeg kan slet ikke stoppe med at lytte. Lyt selv:

Derudover ser jeg ekstra meget frem til Glass Arena efter min medskribents fine anmeldelse af dem tilbage i marts. Og jeg er meget nysgerrig på Helsinki Poetry, Raised Among Wolves og Deer Bear.
Bliver spændende at se hvor mange af dem jeg egentlig nåede og hvilke der overraskede eller skuffede, når vi når om på den anden side af festivalen…ha en dejlig weekend!