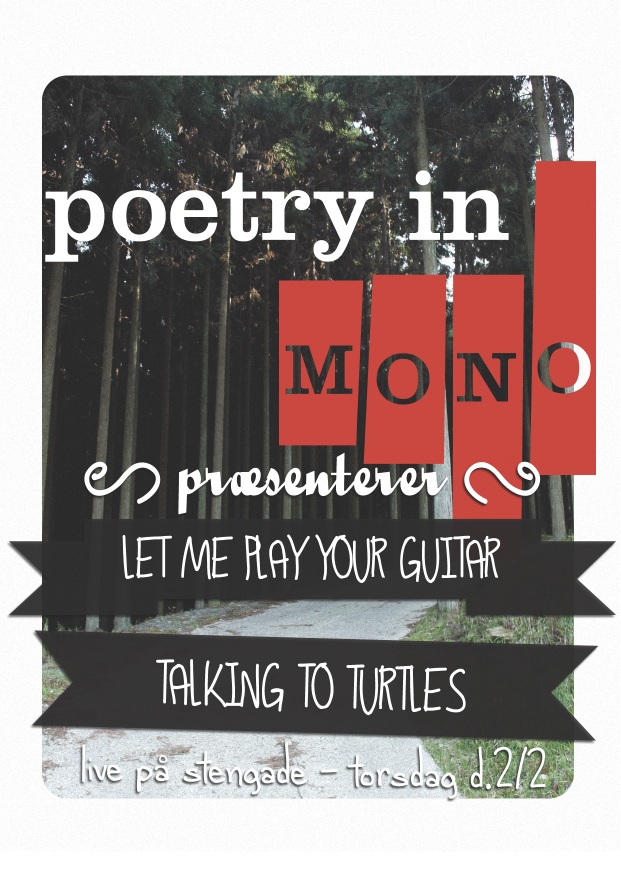 Det er med stolthed i stemmen, at vi i Poetry In Mono kollektivet efterhånden kan løfte sløret for et fuldt forårsprogram, der byder på lidt af hvert. Følg med på siden her eller inde på Facebook, hvor der løbende vil blive opdateret på de forskellige events.
Vi starter forårets sæson torsdag d. 2. februar med fornemt besøg fra bandsene Talking To Turtles fra Tyskland og Let Me Play Your Guitar her fra Danmark. De to bands mødtes sidste år på SPOT festival hvor de fremførte en succesfuld fælleskoncert, og drager nu på en mindre Danmarksturné inden de drager til Tyskland og giver en række koncerter der.
Undertegnede kan (ikke helt objektivt, men stadig hjertefølt) anbefale denne koncert på det kraftigste, og at man erhverver sig en billet i forsalg og sparer en 20'er på entréen herinde.