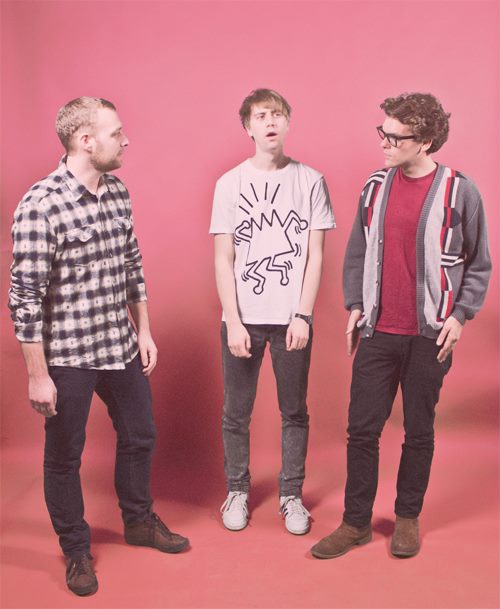 På torsdag koncertdebuterer gruppen Girlfriends på Stengade. De har for nylig smidt en selvbetitlet gratis debutep til download via gruppens facebook-side, som undertegnede har nydt utallige gange de seneste par uger. Især er nummeret When You're Young et favorit track, hvor en fremtrædende bas, synth- og guitarlicks er med til at gøre det til en cathcy – og såmænd også en lidt powerpopppet affære.
Der er i hvert fald genkendelige aner til (dog primært guitarbaserede) grupper som The Posies og Big Star (især et nummer som dette) tilsat synth, for at understrege, at melodierne virkelig er stærkt skruet sammen. Trioen har også haft materiale på blandt andet P6 Beat.
Ikke desto mindre så har de også været så venlige, at sende lidt musikalsk opvarmning fra deres playliste til deres koncert på torsdag den 8. marts. Der er lidt for enhver smag. Se mere til koncerten her.
The Drums – What You Were:
– Når vi selv arbejder med melodier, bliver vi altid enige om, at The Drums på en eller anden måde formår at sammensætte det simple med det meget smukke – det synes vi slet ikke er nogen dum idé.
John Maus – Quantum Leap:
– Den nyeste John Maus-plade er helt fantatisk. En god blanding af lo-fi og dansevenlig pop med masser af ekko-vokal. Det her nummer har lige den der gode punkrock feeling, som kunne have været en drøm at høre Jay Reatard lave et cover af.
Orange Juice – Rip It Up:
– Alt i det her nummer holder mega. Det er en TB-303 der spiller baslinien, der er funky guitarer, 2 riffs med 2 akkorder i hver, saxofon solo og en helt igennem fantastisk vokal.
Drake – Take Care:
– Der er adskillige gode numre på den nye Drake plade, og det her er bare ekstra optur, da det er Rihanna der synger på det, og Jamie XX der har lavet musikken.
The 2 Bears – Bear Hug:
– Joe Goddard fra Hot Chip – som vi alle tre er crazy vilde med – er den ene halvdel af The 2 Bears. Det her nummer rykker max, og det har et virkelig fint og meget klassisk Joe Goddard vokalstykke midt i nummeret.