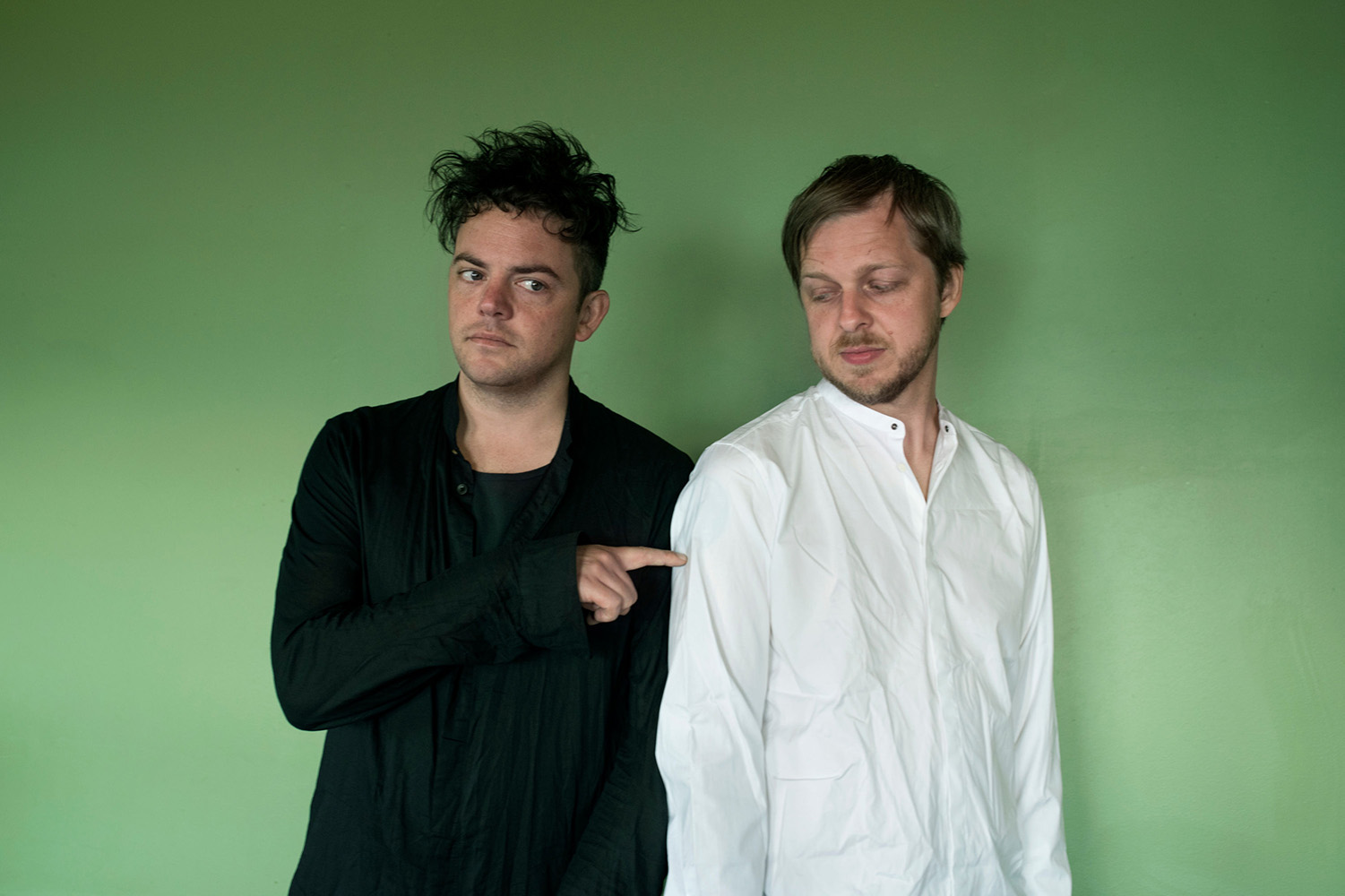 Det er mandag og ugen hvor SPOT Festival endelig afslutter ugen på bedste vis. Fik vi sagt at vi glæder os? 🙂 I den forbindelse kommer her et lidt mere specielt interview, i den forstand at jeg har haft held med at fange både Teitur og Nico Muhly, som er to meget travle herrer, der nærmest konstant rejser rundt et eller andet sted i verden og har gang i spændende projekter. Interviewet bærer derfor også præg af, at jeg har interviewet dem hver især, med næsten samme sæt spørgsmål. Nico Muhly's spørgsmål og svar er selvfølgelig på engelsk. På lørdag kan 'Confessions' opleves for første og eneste gang i Danmark, på SPOT Festival i Symfonisk Sal i Musikhuset kl. 15. Aarhus Symfoniorkester har sammensat et specielt barok ensemble til lejligheden, så der er virkelig tale om en "once in a lifetime" chance. Først lige et stykke musik i kan nyde imens i læser:
Hvornår og hvordan mødte i hinanden?
"Vi mødtes igennem fælles ven på Island Helgi Hrafn Jónnson for mange år siden. Vi kunne lide hinandens musik."
"We met via a mutual friend, the wonderful Icelandic multi-talent Helgi Hrafn Jónsson. This must have been EONS ago! I can't even remember when. I lived in my last apartment… so maybe 10 years? He had released his album 'The Singer' around that time, which I think is one of the most beautiful things that exists."
I befinder jer på flere kontinenter i, du (Teitur) er bosat på Færøerne, og er relativt ofte i Danmark og turnéer rundt i Europa, imens Nico Muhly bor i New York. Hvordan arbejdede i med musikken til jeres debutalbum, når i bor så langt fra hinanden?
"Vi mødtes bare nogle få gange i person når vi skrev musikken. Nico kom til Færøerne et par gange og jeg var også i New York. Hele drivkraften i musikken var internettet, så den trivedes godt der uden geografi. Vi sendte hinanden hundredevis af videoer som vi fandt frem til og skrev skitser til. Det var dengang YouTube var to år gammelt, så vi ville efterforske denne her nye ting, at folk selv lavede film af f.eks deres lejlighed og ville dele det."
"I spend a great deal of time in Iceland, and from there it's just a quick hop to Føroyar! And Teitur was, around the time we met, spending a lot of time in Copenhagen. The other thing to point out is that this project was commissioned by the Muzeikgebouw Frits Philips in Eindhoven, where the director there, Frank Veenstra, gave me a lot of free rein to do whatever weird projects I wanted, and he gave us the space and resources to really develop the work there."
Eftersigende har projektet her stået på siden 2008, og først sidste år udkom jeres debutplade, hvordan kan det være der skulle gå så mange år?
"Vi startede projektet i 2007. Indspilningerne blev lavet i 2009 efter en koncertrække i Holland med Holand Baroque. Derefter har Nonesuch Records i nyere tid hørt indspilningerne og ville udgive det."
"We couldn't find anybody to release it, really! It felt like a homeless project. Bob Hurwitz from Nonesuch and I were talking about releasing some other thing and he heard 'Confessions' and said, that day, "nope, we're releasing this!"
Hvordan kom i på idéen om inspirationen fra youtube videoerne?
"Det føltes bare som en spændende og naturlig ny ting at udforske. I dag er YouTube en del af folks hverdag og vi kender den måde at kommunikere på bedre. Når nogen viser os en film af deres lejlighed kan det betyde noget mere. Måske de vil sige noget helt andet med det."
Er det kun lyrisk, eller er det også musikalsk i er blevet inspireret fra videoerne?
"Det er helt grundlæggende videoerne som ligger under. At akkompagnere folks mundene historier med et barokensemble og sætte dem sammen i et."
Kan du komme med et eksempel på én af de videoer der har inspireret jer?
"Der var f.eks en mand som sad i en stol og talte til uendelighed. En, to, tre, fire, fem og så indtil der ikke var mere film. En kat som bliver reddet ned af et træ. Nogen som ryger. Nogen som sætter kameraet på rundfart i et sushi-bælte i en restaurant."
"So, I am obsessed with YouTube. It feels so much like a window into somebody's world — people make a movie, and you see some tiny detail on their shelves, or the way they move their mouth when they speak. I send my friends thousands of videos a year I've found online. Teitur and I were laughing all the time thinking about these videos — a guy who strapped a camera to the front of his car and just drove down a long, empty road in Russia… So Teitur then was reading all the comments in these videos, which are amazing. From there, he took a lot of inspiration from the lyrics.
For me, I knew I wanted to use baroque instruments to offset the very modern (although, in 2017, kind of dated!) confessional (either intended or unintentional) videos we used. There is an amazing one of a cat being rescued from a tree by the fire brigade, and the minute he got down, he ran away so quickly!"
I just saw today that you (Nico Muhly) have started a project together with Sufjan Stevens, Bryce Dessner, and James McAlister. I've read that it started several years ago, where you had been commissioned to compose a new piece for a Dutch concert hall. Had you worked with any of the guys before?
"This was the same situation — the Eindhoven crew commissioned it! We are releasing it super soon. I've known Sufjan and Bryce for years but the Eindhoven situation gave me the opportunity to create a formal structure to work together outside of our individually busy work- and personal lives."
How many pieces did you end up creating for the concert hall?
"We made 14 songs"
Er der noget vi skal glæde os ekstra meget til ved jeres koncert på SPOT?
"Det er den eneste gang at værket bliver opført i Danmark."
"I am just excited to present this work again — it is simple and beautiful, I hope."
Hvad glæder i jer selv til at se på SPOT?
"Spot er at gå på opdagelse. Glæder mig også til at se en masse venner. Skal også være sammen med nogle nye venner som jeg har mødt i Argentina sidste år på Dias Nordicos."
"I can't wait to hear bands I've not heard before — I live a pretty isolated life, musically, as I write all day and then by the end of the day, all I want to do is listen to Bach or Steve Reich — things I know very well."
Her kan du iøvrigt lige tjekke det projekt som jeg taler med Nico Muhly om;