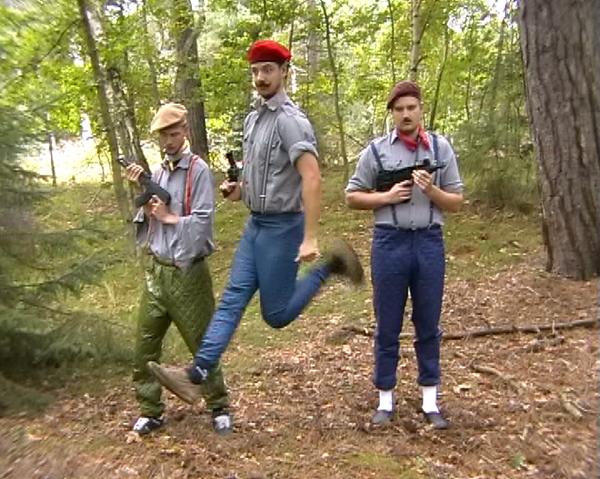 På torsdag starter den fine Newbees Festival atter en gang (for tredje gang så vidt jeg husker). Festivalen byder sædvanligvis på noget fantastisk dejlig musik, især hvis man ser på det ganske glimrende udvalg af musik, der sidste år gæstede festivalen, så skinner den kvalitative musik for alvor igennem. Jeg nævner i flæng CODY, Quadron, Kings Light Infantry, The Rumour Said Fire og Coco Moon – og det bliver gentaget igen i år. Skulle festivalen bestå af danske navne, kunne vi her på blaa vinyl ikke have gjort det meget bedre i hvert fald.
Festivalen bliver vanen tro arrangeret i samarbejde med Bandbase, som står for arrangementet torsdag aften. Jeg glæder sig til på torsdag, som også bliver min debutkoncert-aften i Studenterhusets nye lokaler. Jeg har indtil nu været skeptisk omkring lokale-skiftet, men jeg håber nu at tvivlen kommer Studenterhuset til gode.
Personligt ser jeg meget frem til at se Les Aventures de Commander Flash (billedet), der har et fantastisk visuelt univers. De har nogle ganske uforskammet catchy numre som for eksempel "They Play It On The Radio" og "Let The Good Times Roll". Deres univers ligger absolut ikke langt fra det franske band Phoenix, men jeg synes bare, at musikken er så forfriskende ubekymret og humoristisk. De var med et godt stykke i sidste års Emergenza Festival, hvor de kom ind som to'er i den danske finale.
Hør Les Aventures de Commander Flash – "They Play It On The Radio" her:
Jeg ville ærlig talt ønske, at jeg kunne være tilstede til både fredag og lørdag aften. Hvor især fredag aften byder på nogle solide navne, og jeg må sige at Treefight for Sunlight lørdag aften også ville have været spændende.
Men jeg vil da gerne opfordre andre til at smutte forbi den billige festival, der kun koster 40 stærke for en dagsbillet. Vel mødt!
Se det fulde program her:
TORSDAG D. 23. SEPTEMBER
Newbees og Bandbase præsenterer:
20.00: Drone
21.00: Les Aventures de Commander Flash (Billedet)
22.00: Billow
23.00: Eumig & Chinon
FREDAG D. 24. SEPTEMBER
20.30: Waldo & Marsha
21.30: Sebastian Lind (solo)
22.30: Mescalin, Baby
23.30: My Name is Legion
00.30: Ignug
Host: Dad Rocks!
LØRDAG D. 25. SEPTEMBER
20.30: Penny Police
21.30: Eim Ick
22.30: Lucky Bird
23.30: Treefight for Sunlight
00.30: LeKlik
01.30: Ernest Blackwell
Se mere på facebook.com/newbeesfestival.