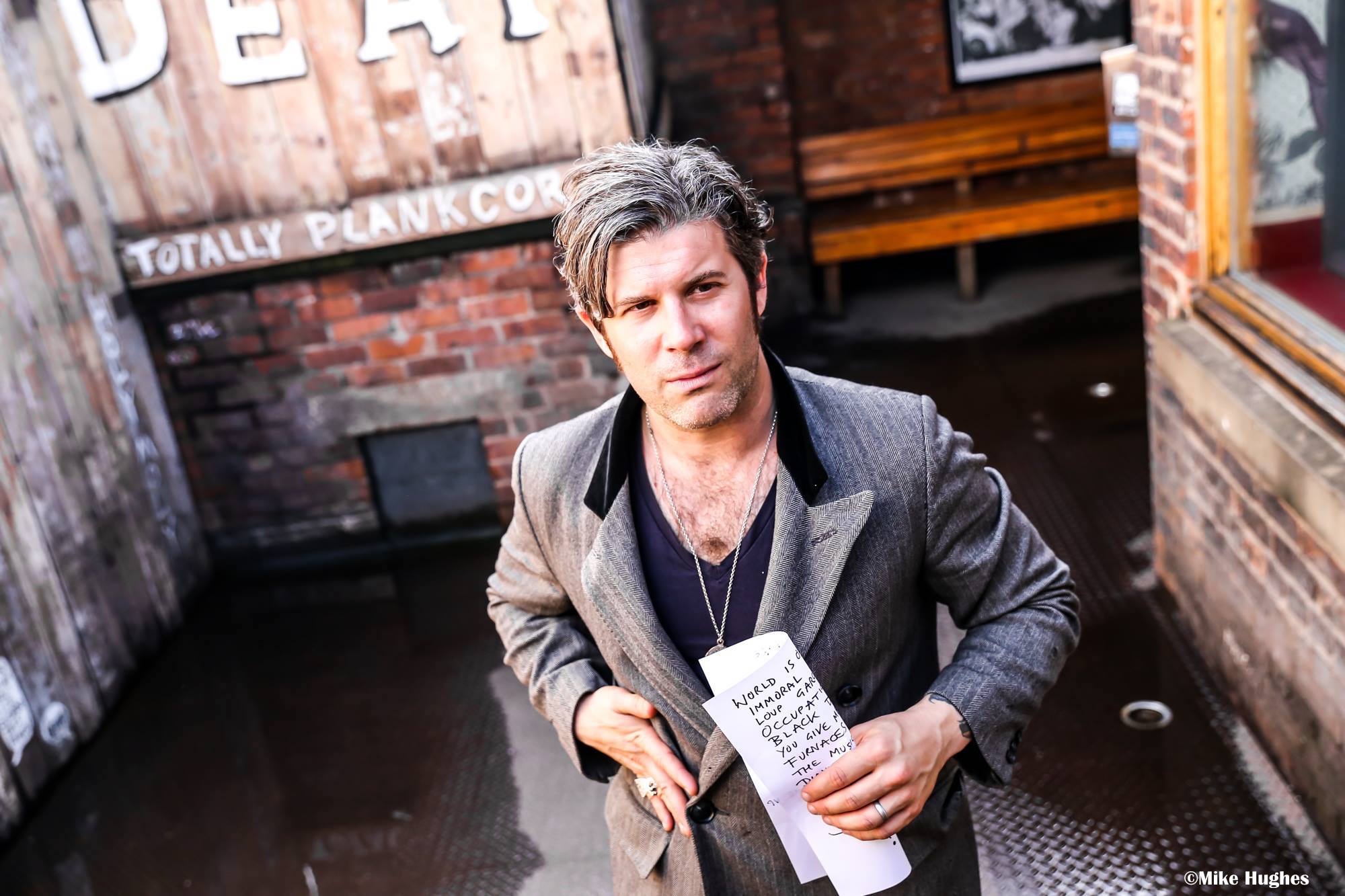 "I think someone needs to come along with a record like this… These are songs about the menace and the threat that men in general pose to everything and everyone: women, children, nature. The record is from a father's head and heart, sometimes screaming into an abyss, reminding myself and anyone who's inclined to listen that we need to remember to be responsible for the lives of others."
– Ed harcourt, Clash
For et halvt års tid siden havde jeg været til en koncert i Ideal Bar, da jeg på vej hen til min cykel støder på denne her gruppe der stod i mørket udenfor Store Vega, og kun ét ansigt lyste op i skæret af en telefonskærm. Jeg var ellers næsten gået forbi, da det slog mig at det oplyste ansigt tilhørte én af mine all-time yndlings musikere; Ed Harcourt. Jeg stoppede op, sagde hans navn, og efter et øjeblik genkendte han mit ansigt og gav mig den største krammer inden han præsenterede mig for resten af gruppen, som viste sig at være en blanding af musikere fra henholdsvis Marianne Faithfull og Thurston Moore's backingbands. Ed genkendte mig fordi jeg efter hans koncert i Voxhall i 2007 tog mig sammen til på rigtig teenage-fan-agtig måde at finde bagindgangen og få adgang, så jeg kunne møde denne her mand der allerede dengang fyldte meget i mit musikalske univers. Mit mod bar frugt og jeg kunne den aften tage hjem med med en masse signerede album covers og et kæmpe smil på læberne. Igen i 2010 mødte jeg ham i merchandiseboden efter hans koncert på Lille VEGA, hvor han med det samme genkendte mig.
Ikke siden havde vi set hinanden før denne aften i november sidste år hvor vi endte på en bar på Istedgade. Her fik vi os en god lang snak, om alt muligt lige fra gode retter med fisk, fyrværkerikatastrofen i Seest og følelsen af verdens undergang, og ikke mindst om hans nye musik, som han på dette tidspunkt var igang med at indspille ind imellem hans tour med Marianne Faithfull og hans få jobs med The Libertines. Han var meget stolt og talte om at det nye materiale ville blive hårdere og mørkere end vi er vant til…for at citere ham fra den aften: "I'm not making a Rufus Wainwright album!" eller som han har sagt i et interview for nyligt; "I wanted to make a record that people can cry, fuck and fight to. I hadn't made a record before that has this kind of danger to it."
Nu er der endelig udkommet hele tre singler på meget kort tid, og mørket kan uden tvivl kan tydeligt mærkes i nummeret 'Dionysus', som ellers starter ud på en meget klassisk Harcourt-måde, men med ét slår over i en noget mere dyster og hårdere karakter;

I nummeret 'The World Is On Fire' ligger dysterheden mere i lyrikken;

Hvorimod jeg synes at titelnummeret 'Furnaces' lyder mere som vi kender Ed Harcourt uden særlig meget mørke;

Pladen udkommer d. 19. august, og er blevet produceret af Flood, som også har produceret for bl.a. PJ Harvey, Nick Cave and The Bad Seeds, og Foals. At dømme ud fra de 3 singler, synes jeg det lyder rigtig lovende og ser frem til at høre pladen i sin helhed. Indtil da kan vi lige nyde en "unplugged" live version af 'Dionysus' her og ellers krydse fingre for at han kommer til Danmark og giver koncert snart (6 år uden er alt for lang tid);