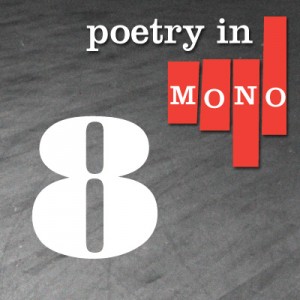 Vi har fat i den helt brede palet i dette efterår når det kommer til Poetry In Mono. Denne gang byder vi på den mere støjende ende af skalaen og vi glæder os til at få besøg af Shiny Darkly og Ocean View lørdag d. 27. oktober på Stengade. Til at holde den røde tråd for hele aftenen, har vi inviteret DJ Mexican Golf (Big Oil Rec) alias Andreas Nielsen (medejer af The Big Oil Recording Company), som i anledningen har tryllet et mixtape sammen, og til og med skrevet et par ord om det:
Musikken på mixtapet er en blanding af yndlingssange og nye fund indenfor den larmende rock. Der er både gammelt og nyt, hvor The Damned og Bikini Kill repræsenterer musik af ældre dato, mens spritnye singler fra aftenens hovedpersoner, Shiny Darkly og Ocean View repræsentere det unge og nye. Udover det så er der også undertegnedes yndlings Vivian Girls sang, skøn-støj fra yndlingsbandet Women (RIP), en sjov lille finurlighed Harlem's Pissed inden Ocean View's Sober og generelt bare fantastisk musik. God fornøjelse!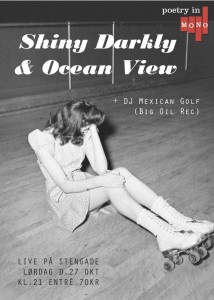 Vi har stablet en lille konkurrence på benene i anledningen af den ottende Poetry In Mono, og stiller i den forbindelse 2 vindere á 1 splinterny vinyl med Ocean View + 1 vinyl med Shiny Darkly + 2 x koncertbilletter til aftenen, på højkant. Det eneste du skal gøre, er at svare rigtigt på følgende spørgsmål:
Shiny Darkly spillede henover sommeren en masse festivaler, men hvilken spillede de ikke på?
A: SPOT
B: Roskilde
C: Skanderborg
Svaret sendes til blaavinyl (at) gmail.com senest d. 20. oktober. Vinderne får direkte besked!