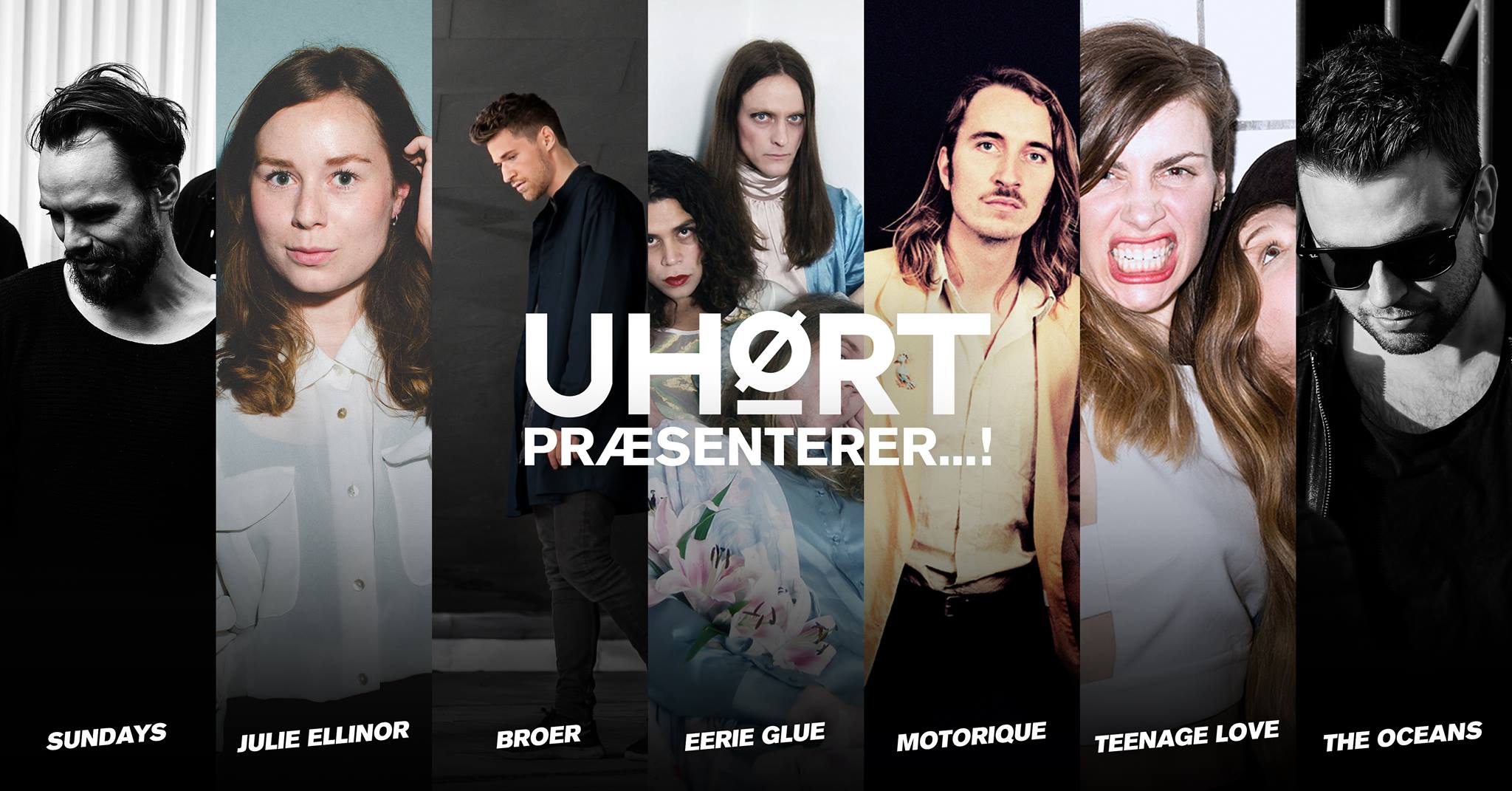 Det er ikke nogen hemmelighed, at vi har et stort blåt bankende hjerte for UHØRT Festival her på bloggen, så vi glæder os rigtig meget til at deltage i UHØRT Præsenterer på Pumpehuset på lørdag. Her disker de gode folk bag festivalen op med hele 7 sprøde nyere bands:
Motorique
Motoriques lydunivers placerer sig i et charmerende krydsfelt mellem synthpop, krautrock, psykedelisk pop og 70'er funk. Kompositionerne er stramme og kompakte, men lyden er alligevel levende og håndspillet.
BROER
Barrierer brydes, og broer bygges, når to brødre mødes over tunge, tektoniske beats, fængende melodier og hudløst ærlig lyrik. Broer består af Aleksanders soulvokal og Carlos' legesyge rap.
The Oceans
Bandet The Oceans' karakteristika er støjende guitarer, insisterende beats og fængslende melodier. Udtrykket er en kombination af byens puls, støj og kaos samt den ro, man finder i dette hav af impulser.
Teenage Love
Teenage love laver eksperimenterende pop-musik der bryder de faste rammer med legende tekster og melodier, lækre beats og en overflod af violinharmonier.
Eerie Glue
Hvis du tager en smule støj, tilsætter en knivspids pop og rører det rundt i en god omgang alternativ rock, så har du Eerie Glue.
Julie Ellinor
Det er inderligt og ørehængende – lidt poppet, lidt rocket og med inspiration fra folk og soul
SUNDAYS
Kvartettens særegne stil væver sig gennem poppens melodiøsitet, indie-rockens melankoli og folk-scenens lidenskabelige tekstunivers.
Undertegnede var også med til UHØRT Præsenterer i Pumpehuset sidste år, og det var en rigtig hyggelig aften med masser af forskelligt musik, så tøv ikke og kom og drik en øl med os og de andre til alle koncerterne. Der er noget for enhver smag (næsten). Facebook eventet findes her her, og du kan varme op til en aften i det gode selskab lige her (åbner i Spotify).