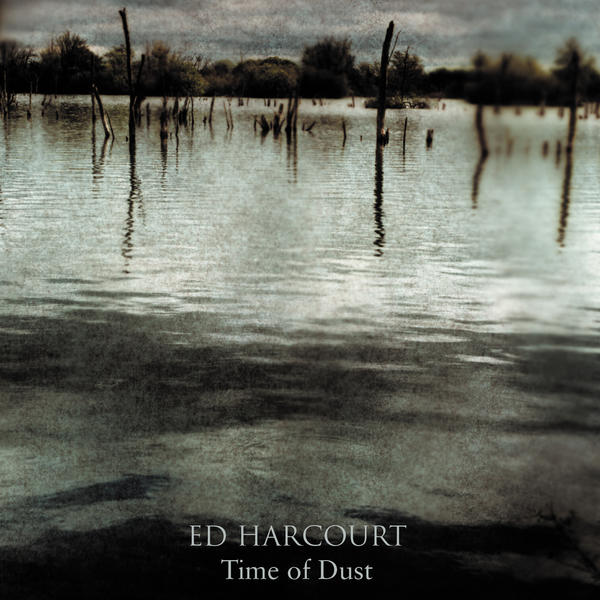 Han er en travl herre ham Ed Harcourt. I 2013 nåede han ikke alene udgivelsen af sit sjette fuldlængde album Back Into The Woods (som iøvrigt endte på undertegnedes topliste over årets bedste udenlandske plader), han var også med til at skrive og producere Sophie Ellis-Bextor's kommende album, musikalsk instruktør på Beck's projekt Song Reader at the Barbican hvor Beck fremførte sit seneste "album" som han udgav som nodebog sammen med prominente navne som Jarvis Cocker, Charlotte Gainsbourg, Conor J O'Brien (Villagers) og mange flere. Harcourt komponerede yderligere soundtracks til hele 3 film og meget mere. Imellem alt dette og turnévirksomhed og så lige jobbet som far til to, har han lige haft tid til at indspillet et mini-album som netop udkom i mandags.
Time of Dust hedder det og indeholder 6 skæringer. Det er som udgangspunkt mere fyldigt på lydsiden end Back Into The Woods, men det er ikke fordi det gør så meget. Der er højt til loftet og især det storladende som på The Saddest Orchestra (It Only Plays For You) som i kan høre herunder:
Ifølge Harcourt er det Tom & Jerry der har inspireret ham til denne sang:
One of my earliest memories is seeing Tom from Tom & Jerry dressed as a conductor, tapping the lectern with his baton and whooshing his impressive and mane-like Beethoven style wig before leading his cartoon feline orchestra into some frenetic score. Turns out that Jerry wants to conduct too so they end up fighting for the position. I always felt Jerry was a bit of a dick. He really makes Tom's life a total misery.

Whilst playing the drums on this song I developed a third arm which really helped with the 2,000 BPM snare roll.
Læs hvad han siger om resten af sangene her.
Harcourt har på 4 ud af de 6 sange klaveret som hovedinstrumentet, og det klæder ham virkelig, også selvom der gemmer sig en større produktion bag mini-albummet her. Det har jo som jeg har været inde på førhen nogle gange taget lidt overhånd og er blevet for overproduceret. Men det er Time of Dust næppe. Lyden er mere fyldig, storladen, bombastisk og dejlig rund hvilket passer perfekt til hans stemme.
Selvfølgelig skulle der være en sang om et dyr her. Harcourt har altid haft dyrene med i sit sangunivers på den ene eller den anden måde, og gerne de lidt mere dystre af slagsen. Og her er det så rågerne der står for skud. Harcourt har her på sangen besøg af Kathryn Williams som er med som gæstevokal:

Jeg er meget positiv. Ed Harcourt har begået et mini-album der på én gang rammer den Ed Harcourt jeg i sin tid stiftede bekendtskab med på hans Here Be Monsters (2001) og samtidig en fornyelse der ikke bliver for meget. Han er stadig blandt mine favoritsangskrivere og jeg håber snart han kigger forbi Danmark igen….hvis han har tid.