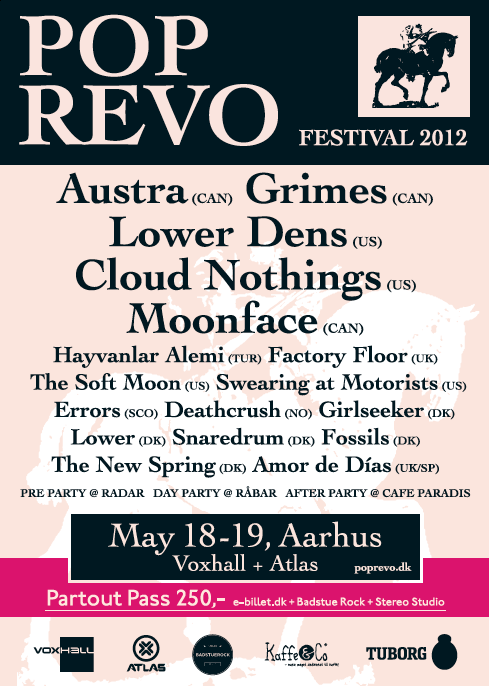 Siden 2004 har festivalen, der nu har til huse på Voxhall i Aarhus, budt på en række spændende alternative navne. Ét af de navne undertegnede har været mest ked af at glippe, er The Clientele som spillede på den første af slagsen. Jeg har kendt til festivalen en årrække nu, men har aldrig selv været afsted, hvilket jeg håber at komme i år, da fede navne som Lower Dens, Austra og Grimes spiller op til bal.
Som noget nyt er festivalen udvidet til at foregå på hele to spillesteder, nemlig Atlas og Voxhall, som på skift i aftentimerne vil byde på de forskellige navne fredag og lørdag d. 18. og 19. maj. Torsdag d. 17. maj er der præ-party på Radar ved Godsbanen hvor bl.a. Alasdair MacLean (The Clientele) og danske The New Spring kigger forbi. Lørdag eftermiddag er der day-party på Råbar som passende ligger ned til Aarhus å og imellem Atlas og Voxhall, hvor bl.a. Fossils og Girlseeker spiller.
Lørdag nat når det sidste band har spillet på Voxhall, er der afterparty på Café Paradis med specielle Pop Revo drinks og fede DJ's. Altsammen kan man få hvis man erhverver sig et superbilligt partout armbånd til 250 kr + gebyr her.
Undertegnede håber i hvert fald rigtig meget på at komme afsted og få taget sin Pop Revo mødom.