Archives by date
You are browsing the site archives by date.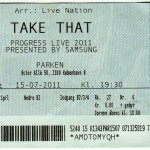 Som jeg har nævnt tidligere herinde, var jeg ret tosset med Take That dengang jeg var 9-10 år. I samme forbindelse optog jeg en koncert i fjernsynet på VHS, og så koncerten igen og igen og ønskede at jeg engang ville blive én i havet af publikum og lightere (som ironisk nok er blevet skiftet […]
Posted in Rikkes indlæg | Tagged Parken, Robbie Williams, Take That | Leave a response
Sæt et kæmpe kryds i kalenderen fredag d. 9. september! Mere info følger snarest.
Posted in Rikkes indlæg | Tagged Indie, Poetry In Mono, Stengade | Leave a response